How ShoppingIQ gets you 20% DISCOUNT on Google Shopping Spends?
Who doesn't enjoy a good bargain? Right? Why not get an easy to apply 20% discount on your Google ads? If you like the idea of this, please read on. In this post, we will discuss the Comparison Shopping Services (CSS) programme and how you could save up to 20% on Google Shopping Ads.
Businesses are already reaping the benefits of the Comparison shopping services (CSS) programme, which is growing in popularity day by day. It all started in 2017 when the European Commission (EU) fined Google $2.4 billion for pushing its own shopping comparison services in search results while demoting competitors.
A year after the legislation was implemented, Google opened the auction to additional Comparison shopping services (CSS) partners. That means you may now promote your products on Google's general search results page (SERP) using Google Shopping or a certified third-party Comparison shopping services (CSS) partner.
Here's the catch: as being part of the Comparison Shopping services (CSS) partner programme, ShoppingIQ gives a 20% discount on Google shopping ads. That means, if your regular cost per click (CPC) is $100, you will spend $80 per click after using our services.
When you advertise through a third-party Comparison Shopping service (CSS), you will see the service provider's label at the bottom, not Google's. As shown below: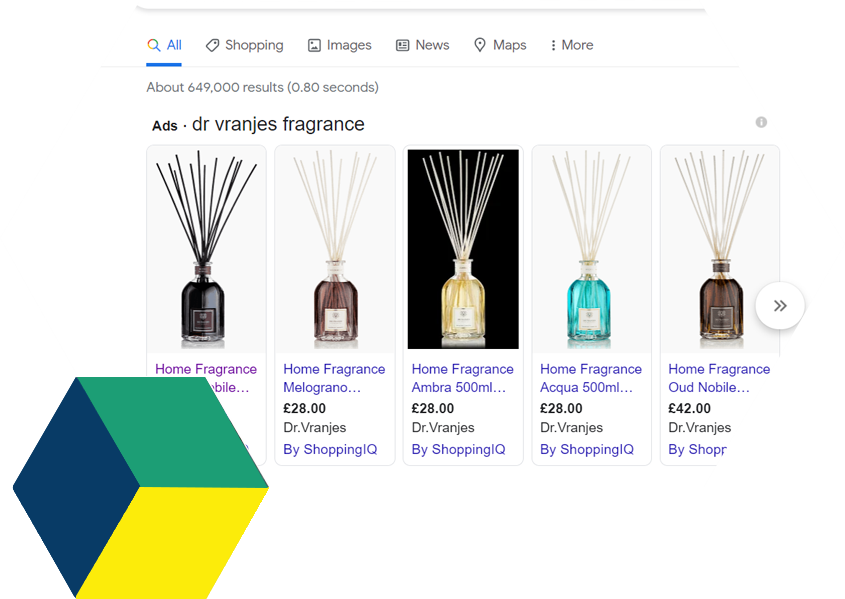 When you sign up for advertising with us, we will setup your Merchant Centre account in order to display your products and run shopping campaigns on your behalf. You can move an existing Merchant Centre account to a Comparison-shopping service (CSS) account.
By providing us the opportunity to handle your ad campaigns, your product advertising game is about to change. Don't waste time; contact us right away to get your 20% discount and begin your journey.
Merchants based in the European Economic Area (EEA) and Switzerland are eligible for the Google Shopping ads with Comparison shopping services (CSS).
Following are the eligible countries: The United kingdom, Germany, Netherlands, Greece, Slovakia, Portugal, Belgium, Sweden, Hungary, Finland, Romania, Switzerland, Czech Republic, Italy, Ireland, Austria, Spain, France, Poland, Norway and Denmark.